Bus Simulator 21
»

PC / PS4 / XB1

»

July 22, 2021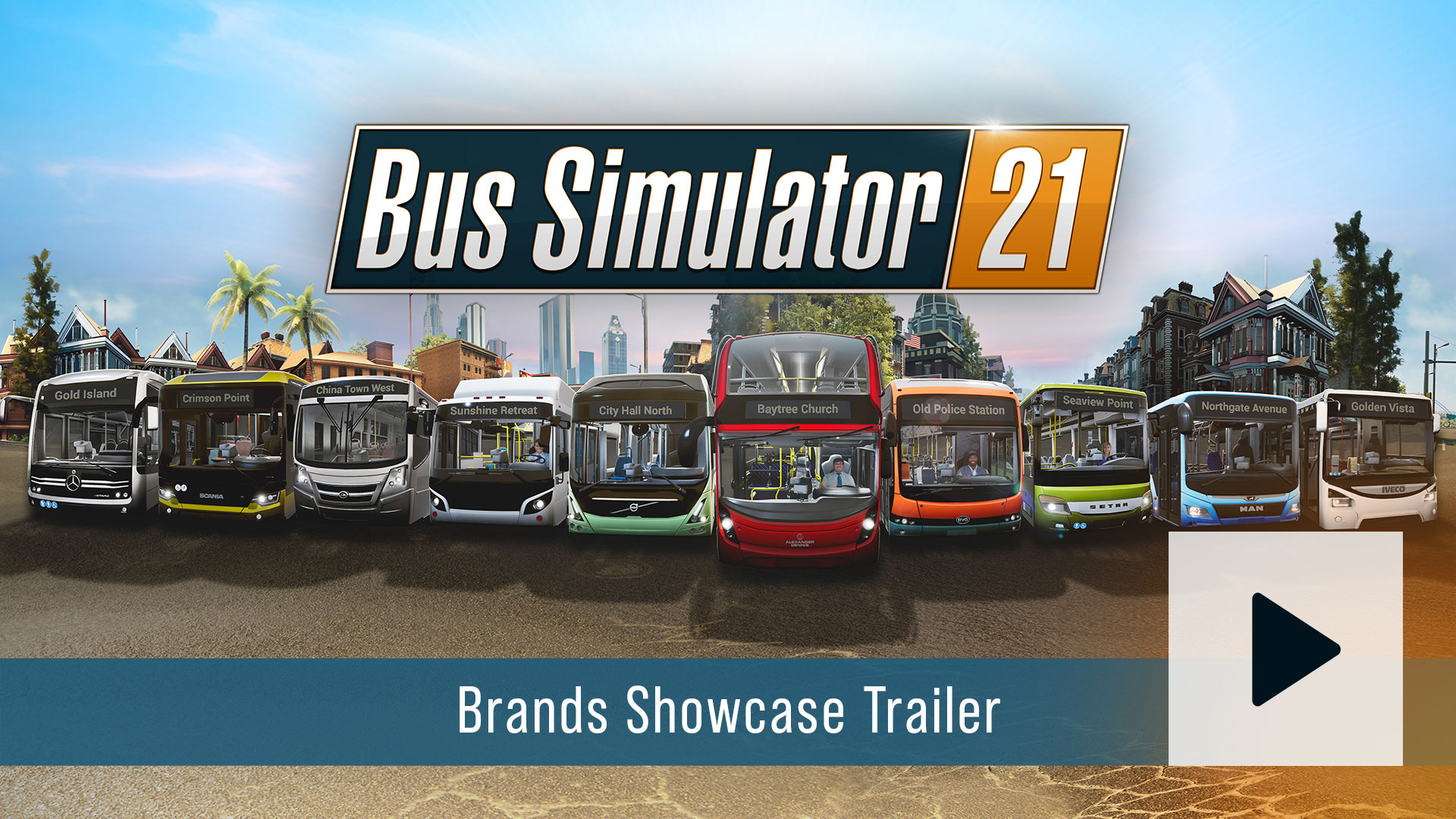 Fellow Bus Drivers! In Bus Simulator 21, you can look forward to the most comprehensive and advanced fleet in the history of the series. With 30 officially licensed buses by 10 international, well-known manufacturers, the game provides an unparalleled variety in the genre.
Whether you prefer electric buses, CNG buses, diesel buses or a double-decker - with Bus Simulator 21, every bus lover gets their money's worth! All bus models are available both in the extensive single-player campaign and the cooperative multiplayer for up to four players.
And once you download the Day One Update, we even have a gift for you: In addition to all the other 30 buses, we're granting you access to the Scania Citywide 14,8m! This bus will be free for everyone - no matter when you buy the game.
It's time to go global!
With such an astonishing amount of available bus models, you now have the choice: Which ones will be part of your fleet? No worries, we've taken a look at the garage and have a full list of all brands and buses down below!
In Bus Simulator 21, we're going truly global: With brands from all over the world, there's something for every bus enthusiast. Whether you prefer the British flair of Alexander Dennis or the American style of Blue Bird – or maybe even buses from Sweden, Germany, Italy, Canada and China – the roads of Angel Shores and Seaside Valley are yours.
Bus Simulator 21 releases September 7, 2021 for PC, PlayStation 4 and Xbox One - and is fully playable on PlayStation 5 and Xbox Series X|S. Do not forget to check out our official store page for details on how to wishlist or pre-order the game!
Full list of all bus models in Bus Simulator 21
Alexander Dennis
Enviro200 (City Bus)
Enviro500 (Double Decker)
Blue Bird
BYD
BYD eBus 12m (Electric Bus)
BYD eBus 18m (Electric Articulated Bus)
IVECO BUS
IVECO BUS Urbanway 12m (City Bus)
IVECO BUS Urbanway 18m (Articulated Bus)
Grande West
Vicinity 30ft (City Bus)
Vicinity 35ft GNG (City Bus)
MAN
Lion's City (City Bus)
Lion's City CNG (Articulated Bus)
Lion's City City Bus (City Bus)
Lion's City G (Articulated Bus)
Lion's City L (City Bus)
Lion's City M (City Bus)
Lion's City 18 (Articulated Bus)
Mercedes-Benz
Citaro (City Bus)
Citaro K (City Bus)
Citaro G (Articulated Bus)
CapaCity (Articulated Bus)
CapaCity L (Articulated Bus)
eCitaro (Electric Bus)
eCitaro G (Electric Articulated Bus)
Scania
Citywide LF 12m (Electric Bus)
Coming with the Day One Update: Scania Citywide 14,8m (Electric Bus)
Setra
Setra S 412 UL (Intercity Bus)
Setra S 416 LE business (Intercity Bus)
Setra S 417 UL business (Intercity Bus)
Setra S 418 UL business (Intercity Bus)
Volvo
7900 Electric (Electric Bus)
7900 Electric (Electric Articulated Bus)